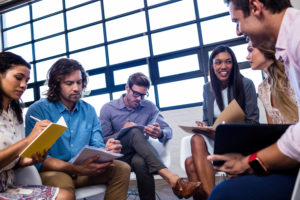 Arthur runs a busy holistic health center in a big city on the west coast.  In addition to his acupuncture practice, he employs a nutritionist, 2 massage therapists, a homeopathic doctor, 3 receptionists and two assistants.  They provide health services, and also do a fair amount of business selling vitamins, supplements, essential oils and homeopathic remedies.
Arthur started this business about 4 years ago with a clear vision of what he wanted to offer, and has seen dramatic growth, mostly due to the satisfied customer base he has developed through word of mouth referrals.  But, despite all of this success, his business continues to lose money every year. Recently, he has been deferring his paychecks just to pay some bills.
Some resentments had built up between the staff and front desk, which were effecting work-flow and customer service, as the receptionists seemed to have a lack-luster attitude, and were often late to work.
When Arthur first contacted me in last winter, he was in a bind.  His lease was up in a couple of months, and the landlord of the building that housed his business had asked for a 35% increase.  Two of his long term employees, the nutritionist and a massage therapist had been asking for raises since last year, and seemed unhappy.  Arthur had heard a rumor that a competitor was trying to lure them away.
He also had inventory problems, having too much of some items that weren't moving and not enough of others that clients want, and couldn't seem to get a handle on the right mix.
To add to all of this, several long term clients were no longer making appointments.
At our first meeting, Arthur admitted that he had been so busy over the past four years, that he had never taken the time to take stock of what the business needed as it grew bigger each year.  He was still operating on the same basis as he did when he first opened, with only one employee, when things were far simpler to manage, and this was no longer working for him.
We looked at his financial reports, and found that they were difficult to interpret, since he was keeping some of his records on a practice management program, and the rest on Quickbooks, and there was some overlap.
A couple of things became apparent.  The most obvious, was that they were undercharging for basic services.  In an effort to offer more value to his patients, Arthur had made several large health related equipment purchases for special treatments over the past 12 months, but hadn't been passing along the costs of equipment to his patients, so even thought they were getting more value, he wasn't being compensated for it.
There were no inventory controls in place so they were carrying a lot of the items they didn't need, and were out of many they did.
First we identified the problems, and then we looked at some possible solutions, based upon finances, staffing and the customer service perspective.  Ultimately, we made the following changes / improvements:
1. Fees:  Arthur was hesitant to raise fees, but knew it was impossible not to.  The compromise was to announce 30 days in advance, that there would be an additional fee for treatments involving the new equipment.  To his surprise, no one balked.  This one step raised revenues 18%.
2. Inventory: We implemented an inventory management system that was a module of the point of sale system they already used.  They started with a physical inventory, then identified which items were in more and less demand.  They put the slow movers on sale, which opened up well needed cash to buy more of the items that moved quickly.  This helped free up cash flow for items that generate profits quickly, and upped revenues by another 7%.
3. Staffing: Arthur started holding regular staff meetings.  Problems were put on the table, staff members were encouraged to speak about recent challenges, and attitudes improved as a result.  It seems that there was some in fighting between one of the practitioners and the front desk.  Once both sides had a chance to air their grievances, lateness was no longer a problem.  Arthur negotiated a 2 stage commission increase, based upon new clients brought in, and how long they stayed.  As a result, revenues increased by another 9%.
4. Expenses:  The next logical area to attack was expenditures.  Once we got the bookkeeping sorted out, we were able to review the books to determine if any expenses could be cut.  We found out that the telephone expenses were out of line and negotiated a new package with the phone company.  They were paying for a couple of research subscriptions that were underutilized.  And, they were doing some advertising which wasn't producing a good return.  After this, expenses were reduced by about 3.5%.
It's been about a year since Arthur first stepped into my office, and he's pleased to report that he's taking a regular salary, has negotiated a new lease, staff members are working harmoniously, inventory levels are good, and his business will show a profit for the first time.
If Arthur's story sounds at all familiar, consider finding out more about my business coaching services.
Susan Martin