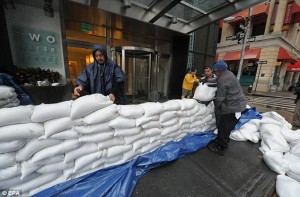 What comes to mind when you hear the word insurance?  Mine automatically goes to the stories of small businesses and individuals in NYC who lost their businesses and homes to hurricane Sandy.  One of the most universal issues I heard around Sandy were the sad stories of business owners and individuals who "assumed" that certain things were covered only to learn the hard way that they weren't.
So I thought it would be interesting to ask an expert for some advice on business insurance to share with you, kind of a business insurance 101. I spoke with Michael Wittkowski, owner of the Curran Cooney Penney Agency in New York (
www.ccpinsurance.com
serving NY, NJ CT & MASS).  Here are Mike's suggestions:
Anyone starting up a small business should research different policies and how they might affect your budget and your business plan.  Many SBOs don't do this, as a result they may not have the appropriate insurance (or any insurance at all), which can sometimes lead to catastrophic consequences.  As each business is slightly different, it may require different types of insurance so it's best to discuss your business with a qualified insurance agent.  Business owners often try to save money by not purchasing enough insurance, but Mike urges you to embrace the concept that insurance is there to HELP you.  It's important to realize that it doesn't cover everything, so it's crucial to understand what it CAN and CANT do you for, so you can take steps to avoid potential exposure.
Every business needs some kind of business liability insurance.  If you have employees, Workers Compensation and disability insurance is a must and small business owners and solo professionals should consider private Disability Insurance to replace their income should they become ill or disabled.  If you provide professional services or give advice of any kind of advice (ie: attorneys, psychologists, architects, accountants, coaches, etc) you should consider Professional Liability coverage as well as General Liability to cover your premises, even if you work at home.
Seek out the advice of an insurance professional to understand what your exposures are and to make sure you're purchasing the types of insurances your particular business needs.  Interview more than one if necessary until you find one you feel comfortable working with.  Insurance agents are typically eager to assist small businesses and a good insurance agent will never charge a fee.
Content insurance covers business personal property in case of loss.  If you have employees, you might want to also have an EPLI policy in place which covers an employer if an employee brings a suit against you for things like sexual harassment, age discrimination, failing to promote, or derogatory comments.  This covers you even if your manager is blamed or a UPS driver is harassed when they come in to your business to make deliveries.  A new exposure is cyber liability and more and more products are coming to the market to help protect against it.
Every business owner needs to take ownership of their insurance situation, not to just buy or renew a policy without understanding exactly what you're paying for, what's covered and what's not covered.  As far too many people learned after Hurricane Sandy, please pay attention to exclusions,  you can't assume that something is covered in a policy, you have to make sure it really is.
If you're a contractor, you must really pay close attention to your insurance policies.  If you get dragged into a lawsuit for something that isn't covered, you may not get paid for work you've completed.
What kind of business insurance do you carry?  Join the conversation below: