Benefits of Business Coaching
There are many benefits of business coaching, ranging from increased profitability, to better organization, time management and reduced stress.
On this page you'll learn about the typical benefits my clients achieve from our work, what makes me different, and a little bit about the values I won't compromise on – read on…
Benefits of Business Coaching: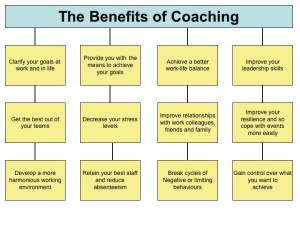 •Marketing coaching will help you transform your current marketing efforts into a compelling strategy that attracts the type of customers you want and projects you do best. You'll implement a marketing plan that brings in a consistent flow of business so you'll avoid the "feast or famine" cycle that so many businesses get stuck in. You'll attract more business and have to do less "selling".
• Sales coaching will help you sharpen your selling skills, overcome resistance to sales and organize your effort so that prospects don't slip through your fingers. You'll develop a pipeline, understand how to qualify prospects, create a system for following through on leads and referrals, learn how and when to follow-up, create strategies for breaking into new companies and how to get past gatekeepers. And you'll close deals more easily and effectively.
• Time management coaching will help you learn how to master time management for maximum efficiency and reduce the feeling of overwhelm. You'll learn how to schedule time to get things done, cut down on interruptions, deal with communication overload, and set clear boundaries with co-workers and customers. You'll discover how to stop procrastinating and eliminate habits and patterns that are keeping you from being most effective. You'll develop goals and priorities, and a regular schedule which will help you stay on top of everything. As a result, you'll manage your time and get things done.
• Business leadership coaching will improve your business management skills, understand how to motivate employees to do their best and learn effective methods of delegation. You'll learn how to attract employees who will do the right job, have an appropriate sense of urgency, and train them to help your business grow and thrive. As a result, you'll hire the right people and increase employee retention.
• One of the most important benefits of business coaching is learning how to view your business from a "big picture" prospective. It's hard to focus on what's "really" going on when you're in the middle of it. Once you learn how to get that fresh prospective, you'll find that you're able to make the decisions easily and be able to concentrate on what's most important.
• Strategic planning consulting will help you to create a business vision and strategic plan to help you realize that vision. Every company needs a plan and a road-map to help them get there. Once this is developed, it will be easier and faster to make your goals a reality.
• Work life balance will help you have more downtime, take regular vacations and learn how to leave work at the office. You don't have to work all the time to be successful. Much more is accomplished when you can let go and make time and space to renew and refresh.
Values I won't compromise on:
In order to have true fulfillment, work must be an enriching and enjoyable experience. I help my clients get in touch with their values and incorporate meaningful changes to ensure that their work is fulfilling and joyful.
A business is not a charity. I work very closely with clients to increase business profitability and personal income.
Every human being deserves time off. That goes for management as well as employees. I help my clients learn how to run their businesses successfully and have a life.
My clients deserve excellent customer service. I respond to their needs promptly and thoroughly.
Flexibility is key. Each client brings a different set of situations, challenges and problems to the table. That's why I don't use "cookie cutter solutions". We will work together to design specific strategies that provide the lasting results each individual client needs.
What makes Business Sanity different?
There are lots of coaches and consultants out there. Why choose me? Because for 25 years, before I came to coaching, I ran my own profitable and successful companies. That's a difference you're not going to find anywhere else. Yes, I put in the time to get the proper coach training. Yes I have years of experience as a coach. But the actual hands on experience of running my own businesses, will give you the edge you're looking for.
Now that you have a better idea about the benefits of business coaching and how I work with clients, read more about my business coaching services.
Are you ready to find out if my services are a good fit for you and your organization? Apply for a Business Sanity Strategy Session to speak to me about your challenges, and find out how I can help.

Business Coaching with NYC based Susan Martin – Get Business Sanity.